Infrared proximity switches work by sending out beams of infrared invisible light. With the aid of specific techniques like magnetic, electric, or optical methods, an assertation of the proximity of an object can be achieved. Therefore, these switches can determine whether an object is present. These switches have numerous security-related applications and can be used to measure a motor's rotational speed. Read More…
Proximity Switches
Proximity switches are made to open or close an electrical circuit when they either make contact or come within a certain distance of an object. They detect objects in close "proximity." Proximity switches come in four basic types, which are: infrared, acoustic, capacitive, and inductive.
With the aid of a magnetic or electromagnetic field, proximity switches can recognize the approach of a metallic device component. Normal proximity switches employ a permanent magnet to generate a sealed switch mechanism when a mechanical component of an object approaches. Some proximity sensors can function as metallic detectors; these sensors are referred to as complex proximity switches. Complex proximity switches work by electrically energizing a coil of wire; the current's strength is electronically tracked. If a metallic object approaches the coil, the monitoring section will trip.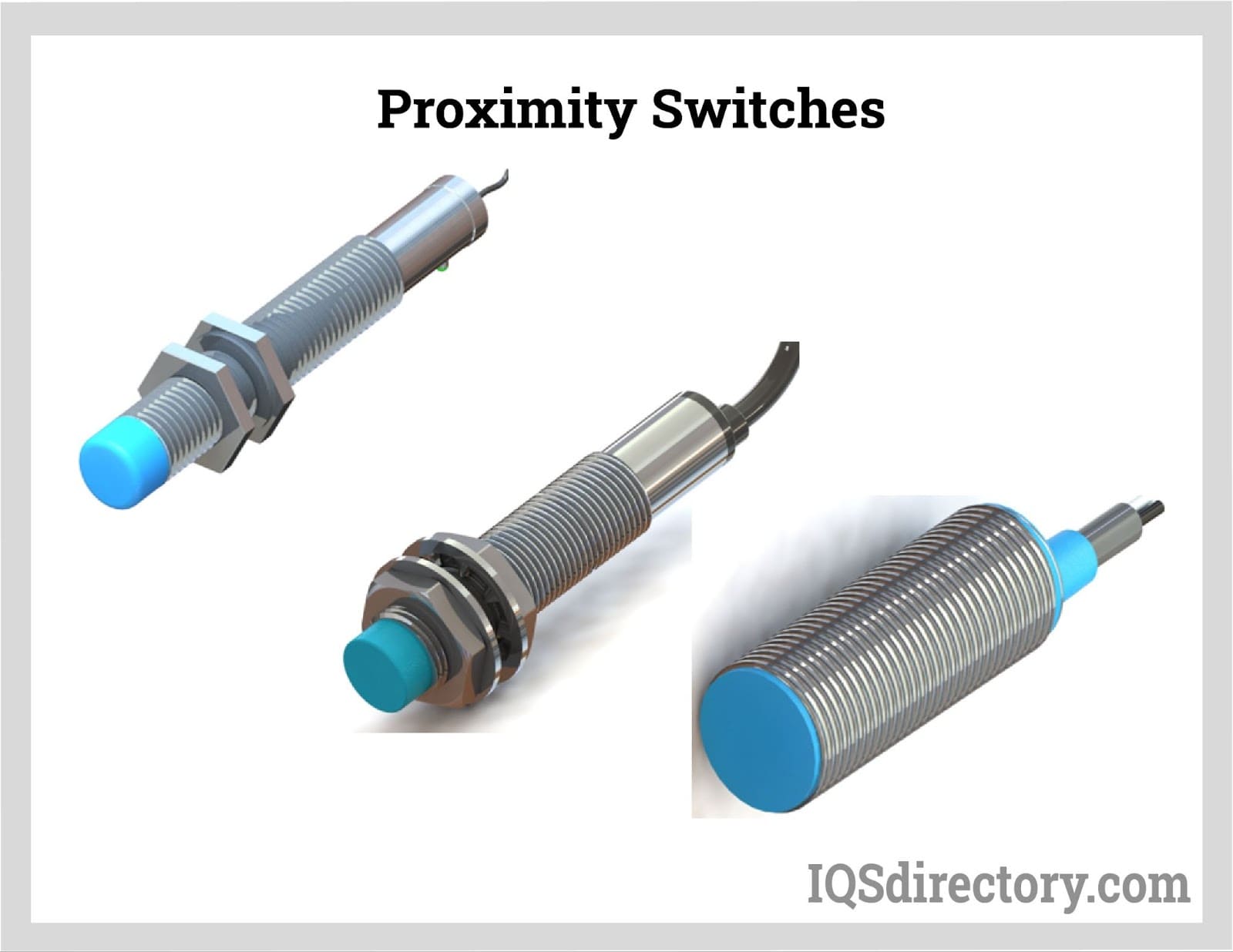 Types of Proximity Switches
The different types of proximity sensors include:
Inductive Proximity Switch
Without touching the object, inductive proximity switches can detect the presence of a metallic object. Inductive proximity switches have a high switching speed, contributing to their widespread application in the automation industry. An oscillator powers the coil in this class of proximity switches. The oscillator generates an electromagnetic field that propagates the switch's active region. As a result, the electromagnetic field is reduced, and the switch will turn on or off if the metal component is nearby. By utilizing inductive proximity sensors, we can identify metallic objects, locate metallic components within a machine, and detect small metallic components like screws and the speed at which a device rotates.
Capacitive Proximity Switch
As a non-contact sensor, capacitive proximity switches can measure conductive and non-conductive materials. According to a change in capacitance, the object is found. This tool can find items that are solid, powdery, or liquid in nature. Thus, this kind of proximity switch can detect ceramic, wood, water, oil, and plastic. However, certain non-metallic things can prevent some capacitive proximity switches from detecting objects. Two electrodes are employed in this proximity switch. As a result, when an object approaches the switch's active area, it will be in the electrical field of the electrodes, changing the coupling capacitance.
Ultrasonic Proximity Switch
In automation, ultrasonic proximity switches are employed as contact-free sensors. In addition to being able to identify objects, these devices can also measure the distance between an object and the device using these sensors. This equipment is used every time we need to calculate distances in the air. Moreover, this proximity switch is incredibly dependable. The ultrasonic proximity switches send ultrasonic pulses. As a result, the objects would reflect these pulses, and the proximity switch would pick up on these echoes to determine distance. These gadgets have a 10-meter sensing range.
Optical Switch
A photocell and a light source are found in an optical switch; these are considered forms of proximity switches. When the light beam emitted by the emitter diode is broken or reflected by the item to be detected, the device would respond to changes in the amount of light received. As a result, we may inspect unsafe regions before personnel enters using this gadget, which is also used for safety purposes. These sensors are very affordable and portable. In addition, these sensors are very adaptable.
Applications of Proximity Sensors
The primary use of a proximity sensor is to detect an object's existence without making direct physical contact.
The detection and measurement of environmental changes is the second crucial application.
Proximity sensors are used in home automation systems, for example, to turn on the light when someone enters the room automatically.
The conveyor belt is also moved using proximity sensors for object counting.
Electrical motors' speed and rotational direction are measured using proximity sensors.
Vehicles use proximity sensors to measure distance and speed.
Rolling mills, machine tools, and all automation systems require proximity sensors.
Choosing the Correct Proximity Switches Manufacturer
To make sure you have the most productive outcome when purchasing Proximity Switches from a Proximity Switches Supplier, it is important to compare at least 5 or 6 Companies using our list of Proximity Switches manufacturers. Each Proximity Switches Manufacturer has a business profile page that highlights their areas of experience and capabilities and a contact form to directly communicate with the manufacturer for more information or request a quote. Review each Proximity Switches company website using our proprietary website previewer to get an idea of what each company specializes in, and then use our simple RFQ form to contact multiple Proximity Switches businesses with the same quote.
Proximity Switches Informational Video